By George Pepall
A small group of Oxford and Waterloo County collectors enjoyed an informal philatelic presentation on July 25 at the Beachville District Museum in Beachville, Ont.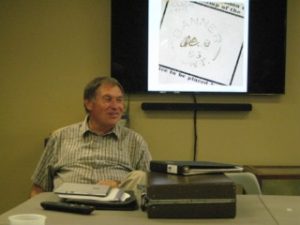 A random visit to the local town post office and a subsequent e-mail to club members led to the day's gathering. The topic was cancels on mail into and out of Beachville, a small, limestone-quarrying town between Ingersoll and Woodstock.
Beachville is known primarily as the site of the first baseball game ever played anywhere – and that includes Cooperstown, N.Y. The alleged date was June 4, 1838; however, special guest and former Beachville resident Robert Stock, of Victoria, B.C., has another reason for the town to have a place on the map: its extraordinarily large and colourful split ring cancelations.
"Broken up collections lose their story value," said Stock, of his motive for sharing his rare Beachville cancels at the recent presentation as well as exhibiting them at the Postal History Society of Canada Symposium in Hamilton this July.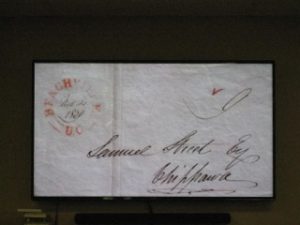 "My personal interest in social history is what got me started."
An example of rapid postal service that showed his postal history interest was of a delivery of fresh oysters by train mail from Paris Station, Ont., to Beachville.
He has an early example of youth using the mails (unlike the philatelically deprived young people of today). It is a personal letter sent by a 12-year-old girl from nearby Norwich to a friend in Duchess Co., N.Y., in the pre-stamp year of 1820.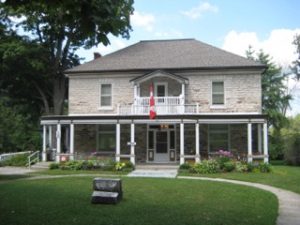 Stock said a useful source of early censuses can be found at ancestry.ca, which is among a network of genealogical, historical record and genetic genealogy websites owned by a Utah-based company.
Furthermore, post office reports offer helpful data on postal revenues for each post office going back to the time before 1851, when the Canadian post office was a branch plant of the British post office.
Special thanks to Henny Oyl, president of the Oxford P.S., for organizing our visit to the Beachville Museum with Robert Stock.
George Pepall is a Fellow and a former president of the Royal Philatelic Society of Canada.