The Canadian Philatelist
Writing Guidelines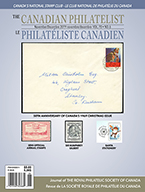 [Click here to see scanning guidelines.]
The Canadian Philatelist (TCP), the official journal of The Royal Philatelic Society of Canada, is Canada's official national stamp magazine for philatelists.
1) Articles in either of Canada's two official languages will be considered for publication (English / French). Manuscripts received in either of the two aforementioned languages will be printed in whichever one they are received. If you are able to provide a translated article for publication on The RPSC website, that would be most appreciated.
2) Articles of specific interest may be published in both official languages at the discretion of the editor.
3) We prefer that articles be written by our members, but will accept single submissions from non-members.
4) Material reflecting negatively on The RPSC, its members, or philately in general, will not be published.
5) Articles on any aspect of philately will be considered for publication. Preference will be given to scholarly works and Canadian content.
6) Original and never-before-published material will be given preference.
7) No fee, compensation, or honorarium will be paid for submissions, solicited or unsolicited, accepted for publication.
Authors may be reimbursed for nominal out-of-pocket expenses for extraordinary items such as photos or other illustrations specifically requested by the editor. Such amounts must be agreed upon in advance by both parties.
8) Every effort will be made to publish accepted submissions in a timely manner but delays must be expected unless otherwise agreed to by the editor who has sole discretion when specific manuscripts will be published.
9) Articles deemed to be of a controversial nature will be referred to the editorial committee at the discretion of the editor for an opinion on their suitability for publication in TCP.
10) Our editors reserve the right to edit any submission. Minor corrections such as spelling mistakes or grammatical errors will be corrected during the editing process. We will only contact the author if significant change(s) are being suggested.
Manuscripts should NOT:
incorporate pictures within the text when sending hard copy or electronic copy.
format text when sending electronic files including centring, a variety of font use, or broken out into columns.
Manuscripts SHOULD be:
written in an easy-to-understand, conversational style.
styled mindful that readers may not be conversant with the subject matter covered in the article.
typed and double spaced on white paper. Electronic manuscripts in Microsoft Word or WordPerfect are preferred but other formats are accepted subject to being able to be "read" by the editors' equipment.
double checked for stamp catalogue numbers and country of issue.
Friendly requests:
Please follow standard typesetting conventions: one space after periods and other punctuation, and no tabs at the start of paragraphs.
Tables and charts should be set with just one tab between fields.
Please spell out dates, as in: January 25, 1990.
Catalogue number references: Italy, Scott 485; Great Britain, Stanley Gibbons 1018.
Always spell out an acronym the first time you use it; add the abbreviation in parentheses (even if you think everyone should know that UPU stands for Universal Postal Union).
Provide a separate list with numbered figure captions. Digitial scans are certainly preferred, but if you must send photocopies, please lightly number the photocopies, etc. in pencil or use sticky notes.
DO NOT place sticky notes on original philatelic material, they can "lift" old ink or tear the item.
Please keep captions brief.
We are "The Canadian Philatelist" and "The RPSC" (not 'the Canadian Philatelist' and 'the RPSC'). Please use 'The' (not 'the').
E-mail
If the file is being sent by e-mail, please use attachments. Smaller articles can be pasted into the body of an e-mail.
All images must be sent as attachments. Do not embed the scans into the body of the e-mail or embedded into the word processing document (picture quality is lost).
Please do not send large files by e-mail or large attachments. Some e-mail programs 'choke' on files larger than 10 MB. Keep the file sizes down and make sure they are attached to the e-mail and not embedded.
If needed (for large files) use something such as WeTransfer or Dropbox (both free).
If you prefer, you may send submissions on physical media such as CDs or a memory stick.
Scanning Images
Tell Us About Yourself
Don't forget to include a two- or three-sentence "bio-note" that includes your current collecting interests. This may be published with your article.
Cite Your Sources
Here are examples of the format to follow:
References/Bibliography
Wang, Jean, Chalybeate Waters, Wading into Thematics, The Canadian Philatelist (Jan-Feb 2019), pages 28-30.
Scott Standard Postage Stamp Catalogue, Volume 1 (2017), Scott Publishing Company, Sidney, Ohio, USA.
Copyright
Publication of an article in TCP is under the standard terms of First North American Serial Rights. The contents of each issue of The Canadian Philatelist are copyrighted in its own name each month. Authors retain the right to use all or part of their articles in future works of their own.