---
The Canadian Philatelist
TCP Complete Index in Excel format
---
The free Adobe Acrobat Reader is required for viewing the PDF files.

---
Related Canadian philatelic search...

Search the BNA Topics articles in the Horace W. Harrison Online Library. Topics is the journal of The British North America Philatelic Society.

Search the Global Philatelic Library for articles from the APS, RPSL and NPM.
---
Special thanks to John Walsh for scanning and preparing the PDF files and to Garfield Portch for developing an Excel spreadsheet containing the thousands of referenced articles.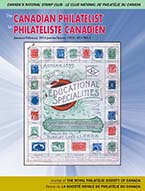 The Canadian Philatelist
Last updated: Mar 13/15

Founded in 1950, The Canadian Philatelist is the Official Journal of The Royal Philatelic Society of Canada. Members receive six issues yearly as part of their member's dues. Each issue of The Canadian Philatelist contains compelling philatelic articles, business and news of The RPSC, philatelic news, auction and events calendars, meeting notices and Society reports.

Each issue of The Canadian Philatelist (up to five years ago) has been scanned and assembled into PDF files for on-line viewing (each issue is in one complete PDF file). You can now search a database that contains each article's Title, Author (lastname and initial), Topic (and sub topic in most instances), Year of publication, Volume and Number.

Translated articles

From time to time we will post translated articles of those initially published in The Canadian Philatelist (Adobe PDF files):

To french...
---
Searchable Database
There are several different searching options available to you, depending on your desires. Choose one, or more options. The more criteria you provide, the narrower the search (i.e. the fewer articles will be found, if any). It is very possible that certain criteria combinations will yield no results!
Search The Canadian Philatelist
(1950-present)

| | |
| --- | --- |
| Topic: | |
| and | |
| Author: | |
| Title: | |

Year of publication:

Volume:

Number:

---