By Herb Colling, Editor of TCP
The September October issue of The Canadian Philatelist is all things royal.  The Royal/Royale is the premier stamp show and exhibition hosted by the RPSC in June each year.
TCP's cover story in the September October edition will look at the exhibits, presentations and some of the highlights of this year's event.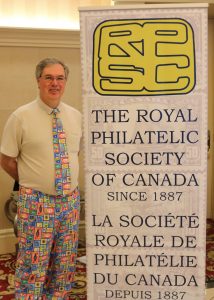 About 50 people were on hand for the gala opening, and many stayed to attend the first day of seminars, which included information about the penny post, which began an era of postal reform in Britain in 1840. Topical collecting was up next on the opening day.
American collector Larry Davidson spoke about beaver stamps, which he decided was quite a Canadian subject for a national symposium.  Then, it was back to Britain as another American collector put his spin on stamps designed by Arnold Machin, a British sculptor who lived from 1911 to 1999.
Steve McGill talked about the seven thousand varieties of Machin definitives in his one hour presentation, which could have lasted a full day because he had much material.
A highlight was running in to Jack Nixon, a 10 year old collector who talked about his exhibit, which won several major awards. The young Nixon may well be the future of philately.  He expects to stick with the hobby for awhile, and then come back to it in later years.  That seems to be the way of the avocation for many collectors.
Jack Nixon has a great mentor in his grandfather, Ted Nixon, who is guiding him through the hobby, and who also won a major award for his own exhibit.