Collecting Your Country on Foreign Stamps
by Tony Brown
If you are like many people you may have reached a stage where you find it very difficult to add anything new your collection at a price you can afford. Expanding your collecting horizon to include associations of your country or countries of interest on foreign issues might be just for you.
---
You may be surprised to learn how many foreign stamps have some connection to your country of interest. In the case of Canada, for example, well over 5000 foreign issues have been catalogued as "

Canadiana

." The Korean stamp shown here, for example, pays tribute to the UN participants in the Korean War
.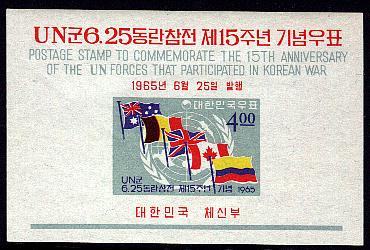 I particularly like the Korean War stamp because it is the earliest foreign stamp that I know of showing the new (in 1965) Canadian flag. (It might be argued that it may have been more appropriate to depict the older flag design that was in use at the time of the Korean War.)
---
| | |
| --- | --- |
| | A great source of material is the hundreds of stamps and souvenir sheets issued to commemorate special events. This stamp was issued by Jamaica for Expo '67. Others have been issued to commemorate the 1976 Montréal Olympics, the 1988 Calgary Olympics, and the Pan American Games. |
---
Postal exhibitions are another kind of event that stimulates foreign postal authorities to issue stamps featuring particular countries of interest. As would be expected, great deal of Canadiana is found on stamps commemorating CAPEX shows. My favourite from CAPEX 96 is Guernsey's, featuring Sir Isaac Brock, who came from Guernsey and is regarded as "The Hero of Upper Canada" for his brilliant leadership during the War of 1812.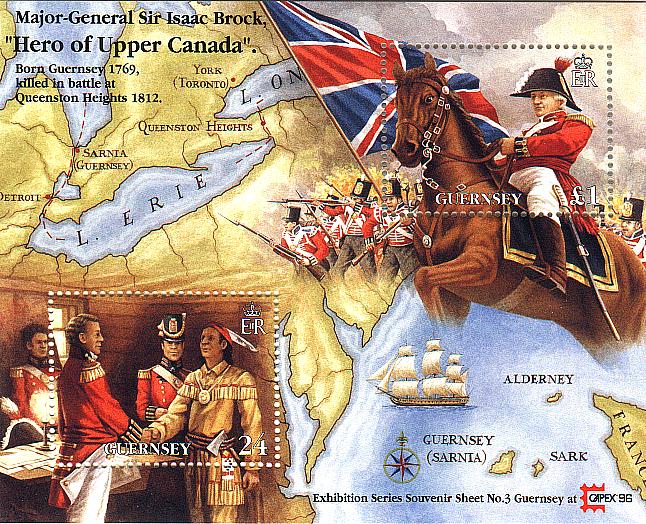 ---
Some connections are more obscure than others. A stamp may not directly refer to your country, but perhaps something about it may be associated with your country of interest, the nationality of the designer, for example, or the where the stamp was printed.
| | |
| --- | --- |
| | This stamp is a cinderella, promoting the 1901 Pan-American Exposition. It occupies a place of distinction in my Canadiana collection not only because the map that is shown includes Canada, but primarily because the design of this label is based on the Canadian 1898 issue commemorating the advent of Imperial Penny Postage (otherwise known as the "Map Stamp"). |
---
Finally, as with any collection, items collected and studied need not be limited to stamps. You may be able to find foreign cachés, cancels, first flight covers, etc., connected to your country of interest.
---
The author appreciates
feedback on this publication.
All rights reserved. No information contained within this publication is to be used for financial gain without the expressed, written permission of the author.
Updated: 14 January 2012