Judaica Canadian:
An Ambassador of Canadian Photography
by John Peebles
as published in the March-April 2000 issue of The Canadian Philatelist.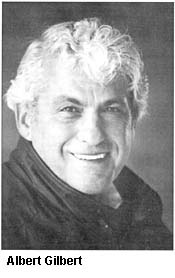 He is a master Canadian photographer. In fact, he has been called the Ambassador of Canadian Photography.
He is a Fellow of the Professional Photographers of Canada, a Fellow of the Royal Photographic Society of Great Britain and a Fellow of the American Society of Photographers.
In 1990, he was awarded membership to the Order of Canada, the centrepiece of the Canadian system of honours. At the time, the Governor General, in making the presentation, noted that the honour "is a gracious and lasting way for a country to pay tribute to those who exemplify the highest qualities of citizenship and whose contributions enrich the lives of their contemporaries."
Prince Charles, Frank Sinatra, Oscar Peterson, Pope John Paul - these represent but a sampling of the personalities whom he has added to his portfolio over the years.
Of whom do we speak? Yousuf Karsh? No, Albert Gilbert.
Understandingly, the listed honours are those which one might associate with the legendary Ottawa photographer, Karsh. And, indeed, Toronto master portrait photographer Gilbert is often compared with Karsh. However, Gilbert, born on Nov. 18, 1922 in Toronto, has his own unique style of portrait art.
As one critic has noted of Gilbert's portraits, "These are more than mere head-and-shoulders shots. The personalities... jump off the photo paper." Gilbert himself has been quoted as saying the "portraiture is a lost art. To be able to give a subject warmth and try to pick up the personalities, to be able to observe and feel a situation, that's portraiture."
Gilbert's distinctive portrait style, which he calls journalistic portraiture, has earned him a bounty of national and international awards.
Among his noteworthy commissions is a project from the National Archives of Canada to photograph 25 leading Canadian personalities.
Another of his myriad of accomplishments in photography is that, since 1950, Gilbert has photographed all of the Prime Ministers of Israel. In 1998, officials from Brandeis University, located in the United States just outside of Boston, Massachusetts, ordered a supply of portraits of all the prime ministers of Israel to mark both the institution's and Israel's 5Oth anniversary.
Leah Rabin, widow of the late Yitzhak Rabin, asked Gilbert for a supply of 3,500 full colour 16 by 20 inch portraits of her slain husband in his memory and for display in every classroom in Israel. It was back on November 5, 1995, that the 73-year-old Israeli Prime Minister Rabin was assassinated shortly after addressing a peace rally in Tel Aviv. Unfortunately, the request from Leah Rabin was never completed. According to Gilbert, "extensive inquiries were made to have the portraits donated, but the plan was never successful because of complications of a tax exemption for overseas contributions."
Levi Eshkol (1895-1969)
Among Gilbert's collection is a portrait of Levi Eshkol (1895-1969), Israeli Prime Minister from 1963 to 1969, taken in 1968 during Eshkol's visit to Toronto. This portrait was chosen by Israeli postal authorities in 1970 to honour Eshkol on a stamp.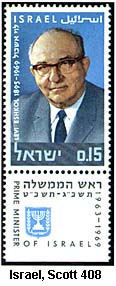 The 15a Israeli stamp (Scott No.408) was issued on March 11, 1970. The Eshkol stamps were printed photolithography in panes of 15 stamps with five bottom tabs. The tab is inscribed "PRIME MINISTER OF ISRAEL 1963-1969" and bears the emblem of the state.
Levi Shkolnik was horn in Ortove, Kiev Province, Ukraine on October 25, 1895. He later changed his name to Levi Eshkol. In 1914, at the age of 19, Eshkol immigrated to Israel where he began work as an agricultural labourer and political activist.
In 1951 Eshkol was appointed Minister of Agriculture and Development and from 1952 to 1963 he served as Minister of Finance. After the retirement of Ben-Gurion in 1963, Levi Eshkol assumed the post of Prime Minister and Minister of Defense. It was during his premiership that the Six Day War of June 1967 occurred. Eshkol died while in office on February 26, 1969, of a sudden heart attack suffered at his home in Jerusalem.
When asked about his memories of the Eshkol portrait, Gilbert noted that, "The portrait session took place at the Four Seasons Hotel in Toronto." Gilbert further recalled the circumstances around the photography session with Eshkol thus:
"The day began with a press conference at the airport hotel. I was there to take some candid photographs. I was surprised by his appearance. I had never met him prior and any of the photographs taken certainly didn't capture his true appearance. Immediately, I noticed his thick prescription glasses and realized they completely obstructed his eyes when any flash unit was directed at him. I quickly captured the images that I needed on film and rushed off to the lab for quick processing. I then took the finished proofs from the conference to a nearby optical centre to find a matching pair of eyeglass frames and purchased them without any glass.
"In the afternoon, there was a room set aside for the official portrait session. I used a blue cloth as a backdrop as representation of Israel. When Levi Eshkol entered the room I greeted him and we shared a few moments of conversation. Then I presented him with the new eyeglass frames. He questioned the need. I then showed him a few photographs taken earlier that day at the press conference. I explained that his prescription glasses obstructed his eyes from view. He simply smiled and obliged me.
"The session was brief, but memorable. I had the film rushed at the lab and a completed portrait was in my hands the next day. I was able to visit with Eshkol a second time to have the finished portrait signed by him. He was thrilled with the dynamic image I had created and appreciated having a copy to take back to Israel."
Chaim Herzog (1918-1997)
Shortly after the death of Chaim Herzog in 1997, Gilbert sent a letter of sympathy to the Herzog family along with a gift of copies of a previously commissioned portrait of Herzog that had been completed in 1989 when Herzog visited Canada. The Herzogs were extremely pleased with the gesture and replied by requesting permission to use the portrait for various publishings. In addition, permission was asked to use the portrait for a commemorative stamp to be issued by Israel in 1998. Hence, for the second time in his career, Gilbert would see Israel issue a stamp bearing one of his portraits.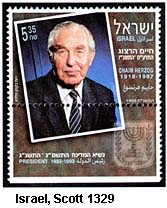 The 5.35 shekel stamp (Sc. 1329) was released on February 17, 1998. Stamp designer R. Beckman very effectively utilized the Gilbert portrait of Herzog. The stamps were printed offset by the Israeli Government Printers in panes of 15 stamps, the bottom five of which have tabs. The tab reads "PRESIDENT 1983-1993" and bears the state emblem.
Herzog emigrated to Palestine in 1935. In 1975 Herzog was appointed Israel's Ambassador to the United Nations. He was elected to Israel's Knesset as a Labour Party member in 1981 and was elected the Sixth President of the State in May 1983. In 1988 he was reelected for a second five-year term. He died in April 1997
Again, Gilbert was asked to recall the time of the Herzog photograph. He remembered:
"The portrait of Chaim Herzog was also taken at the Four Seasons Hotel in Toronto. It was during his visit in 1989. Arrangements were made through the Council General's office. I brought and assembled all my portraits of the previous Prime Ministers of Israel in the official portrait session room. Mr. Herzog was impressed with the collection. Showing him my style and quality of work quickly put him at ease and the session proved to be a success."
A History of Excellence in Photography
The Gilbert Studio was established in Toronto in 1922 by Al's father Nathan Gilbert. The younger Gilbert took over the photography studio in 1945. In 1997, the City of Toronto honoured him on the 75th anniversary of Gilbert Studio with a gala reception and exhibition held at Metro Hall.
Throughout the world, from Australia to Iceland, from China to Russia and many points in between, Gilbert has lectured extensively on the style and techniques of photography.
Yes, master Canadian photographer Gilbert is held in high esteem around the globe for his work. And, his art form has been given lasting fame, for stamp collectors and the stamp-buying public in general, on the stamps of Israel.
References
Aaron, Robert. "Master Photographer," Stamps column, The Toronto Star June 20, 1998, p.L20.
"Albert Gilbert, C.M." Internet available: http://www.gilbertstudios.com
Csillag, Ron. "Gilbert's Photo of Herzog Turned into Israeli Stamps," The Jewish News, March 26, 1998.
Gilbert C.M. Toronto: Gilbert Studios Limited.
Pastenac, S.L. "Al Gilbert Portrait of an Artist," Lifestyles Magazine, Spring 1998, Vol.26, no.155, p.36.